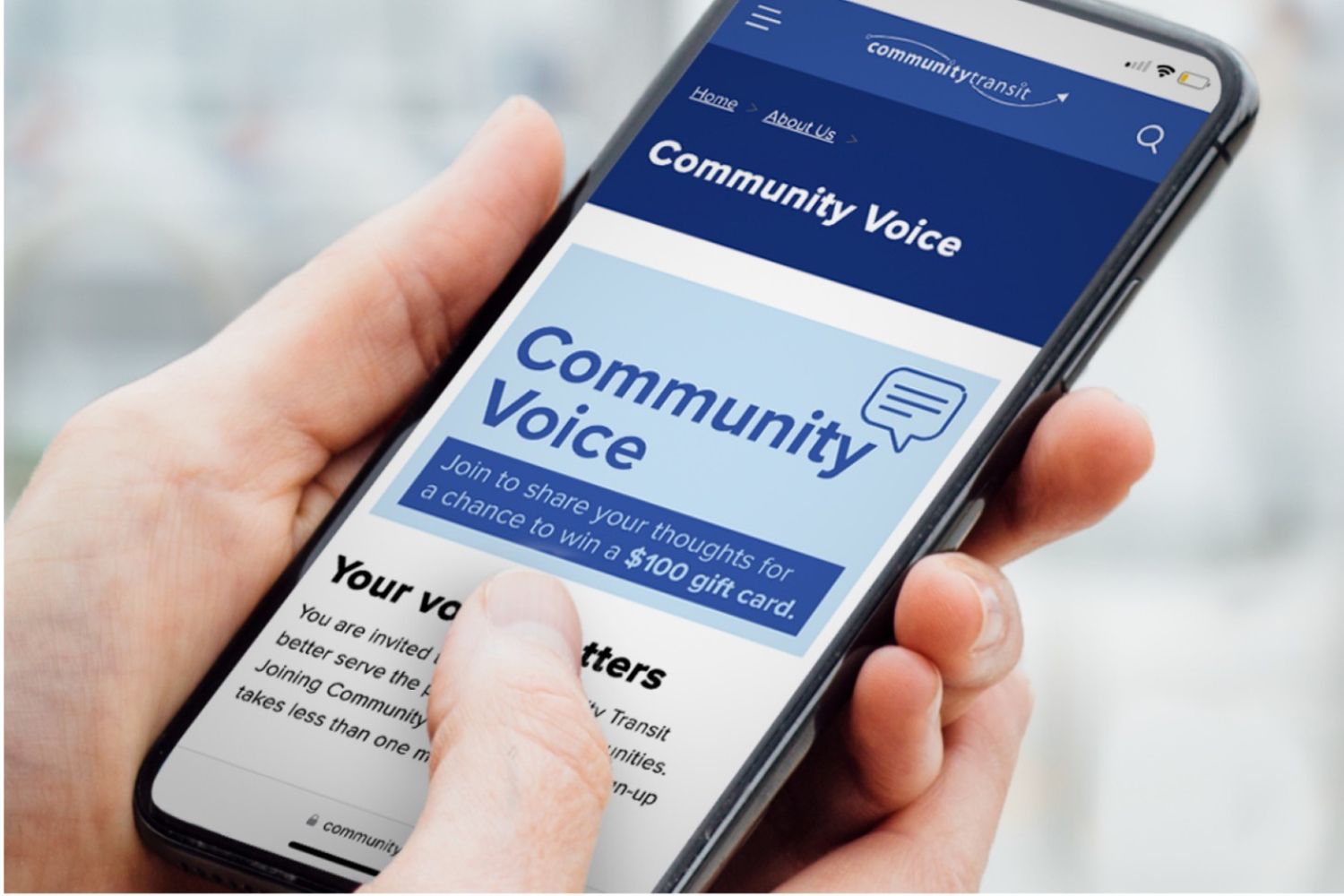 Your voice matters

You are invited to help Community Transit better serve the people in our communities. Learning more about the needs of our communities is an important part of that process. Community Voice is a voluntary panel of local residents who help us understand the needs of our community members. Community Voice members provide information and feedback on topics that are important for improving the services that Community Transit provides. Joining the Community Voice is free and sign-up takes less than one minute.
Every few months, Community Voice participants will be invited to complete a brief online survey about an important topic. Participants will then be entered into a sweepstakes with a chance to win one of two $100 gift cards*. Participants may also be invited to participate in other studies, such as focus groups or website testing, which will offer separate compensation.
We value your privacy. All personal information will be kept confidential, and participation in the Community Voice is completely voluntary. Any survey or other data that you provide will never be tied to your personal information. Any email address you provide will be kept in a secure location separate from any data we collect. We will not share your email address and will only use it for communicating with you about the Community Voice.
To participate in the panel, you need to be at least 18 years old and live in Snohomish County.
Here's how the Community Voice works:
Every few months you will receive an invitation to participate in a brief survey.
Each invitation will provide the option to skip the survey or end your involvement with the Community Voice.
For each completed survey, you will be entered for a chance to win one of two $100 gift cards.
The first survey covers information about who you are — age, race, income, disability status, etc. This provides us with information the helps ensure that we can provide a fair and equitable access to transit to all.
After each survey is completed, we will post an update about what we learned and how we will use that information.

Frequently Asked Questions (FAQ)

*Offer Details: Limited to one gift card per person for each drawing. Must be 18 or older to participate. Additional conditions and restrictions may apply. By participating in the Community Voice, you agree to let us use your feedback and comments in any capacity. Community Transit is not liable for lost or stolen gift cards.